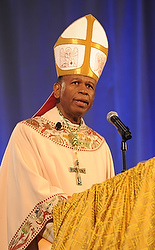 BISHOP BRAXTON DOESN'T TELL CATHOLICS HOW TO VOTE, BUT URGES EVERY BLACK CATHOLIC TO VOTE
In his homily delivered at the Opening Mass of the Eleventh National Black Catholic Congress, Bishop Edward K. Braxton of Belleville, Illinois, urged the nearly 3,000 participants to exercise their responsibility and vote in the presidential election.
He told them the Black Catholic community must not to abandon their "essential participation in democracy and become a part of the sad statistic of nearly 45% of Americans who are eligible to vote in a presidential election and abdicate this important civic and Christian duty. No matter how flawed you may think the candidates are, you have an obligation to participate."
The Bishop encouraged Black Catholic voter turnout without giving any instruction on how Catholics should vote. "Both candidates are imperfect human beings. The American political system does not produce saviors for the nation or knights in shining armor who fulfill all of our hopes and expectations" said Braxton.