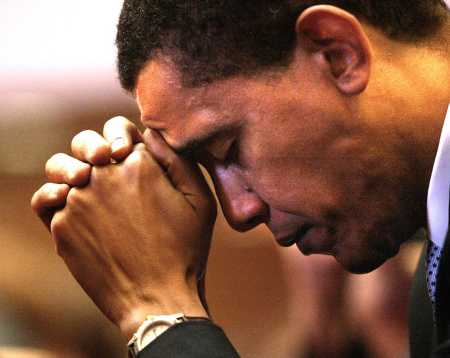 Barack Obama's
life and leadership is grounded in his own Christian faith, as well as his experiences working and serving with people of faith who are pursuing the common good. His mother was a deeply spiritual individual who instilled in him the values of service and empathy that drew him to public service.
As a young man, the President chose a different path than many of his peers. He decided to use his experiences and talents to serve as a community organizer, and with the help of grants from the
CatholiCampaign for Human Development,
he worked with local churches to help families who were struggling in the shadow of closed-down steel mills. From the very start of his career, President Obama witnessed the robust role that faith plays in American life:
And something else happened during the time I spent in these neighborhoods—perhaps because the church folks I worked with were so welcoming and understanding; perhaps because they invited me to their services and sang with me from their hymnals; perhaps because I was really broke and they fed me. Perhaps because I witnessed all of the good works their faith inspired them to perform, I found myself drawn not just to the work with the church; I was drawn to be in the church. It was through this service that I was brought to Christ.
—Barack Obama
Another person also became central in his life—Michelle, his wife and his "rock." Together, they started a family and are raising two beautiful daughters. The President has said that his role as a father is the most important job that he has.
The President's faith has sustained him in his journey from Chicago to the White House, and he has sought to live out his faith while improving the lives of the American people:
Treating others as you want to be treated. Requiring much from those who have been given so much. Living by the principle that we are our brother's keeper. Caring for the poor and those in need. These values are old. They can be found in many denominations and many faiths, among many believers and among many non-believers. And they are values that have always made this country great—when we live up to them; when we don't just give lip service to them; when we don't just talk about them one day a year. And they're the ones that have defined my own faith journey.

And today, with as many challenges as we face, these are the values I believe we're going to have to return to in the hopes that God will buttress our efforts.
—Barack Obama